From Principal's Desk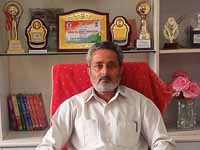 "Educating the mind without educating the heart is no education at all"
-Aristotle

It gives me immense pleasure and joy in welcoming our website visitors at Government Degree College, Mendhar. It goes without say that it is an honor and privilege to be the Principal of this Institution which had witnessed my presence as only permanent faculty at the time of start of this college in Government Higher Secondary School (Boys), Mendhar with insufficient manpower and limited infrastructure and now is considered as one of the premier educational institutions of the state of Jammu and Kashmir. I also have an opportunity of shouldering responsibility as Co-ordinator, Internal Quality Assurance Cell (IQAC) when the college was accredited by NAAC for cycle-I with Grade "B" (CGPA 2.24) in the month of March, 2019.

The college, which started its journey in 2005, has made great strides in last one and a half decades. Initially started with limited subjects, now it was turned into full flagged college importing co-education in arts and science streams. The college is affiliated with University of Jammu, Jammu and recognized by University Grants Commission under section 2(f) and 12(B).

I am feeling myself lucky enough to be the part of such a system where we have learnt faculty, responsible officials and talented students, cooperative parents, supportive alumni and suggestive civil society. With the help of such a splendid umbra of shareholders, I hope that our vision would materialize and our college will become the centre of excellence.

Here at the college, we are taking care of all round personality development leading towards excellence career by paying personal attention to every individual student. Our teachers are successfully detecting creative possibilities dormant in our students and encouraging them to reach new heights. Our students are also cautious enough to realize the true spirit of education. It is pertinent to mention here that education is not just passing examinations and receiving Degrees, it is, at bottom, a simultaneous development of body and mind and the true aim of education is building up of sound character. Our mission is to transform students into rational thinkers, competent workers, law abiding citizens and spiritually enlightened individuals. That is my firm belief that the rich values and traditions imbibed here would carry the learner to greater heights.

"Education breeds confidence, confidence breeds hope, hope breeds peace"
-Confucius

I wish to advise our students who are reading should prepare for examination with full sincerity and honesty. I hope that students would not lose self-confidence. All odds, all challenges, all handicaps of life can be overcome with strong determination, persistent hard work, insurmountable patience and unshakeable tenacity. Here I want to point out that one may face disappointments but they are temporary. Honest efforts would finally lead to success in life. I have to mention here that it should be our paramount aim to determine our goals and make sincere and honest efforts to achieve our goals.

Dear students in this era of cut throat competition, it is of paramount importance to be well equipped with appropriate knowledge, habits, attitudes, values leading to holistic development. To be successful in life, one must have ambitions and defined goals. Discipline and hard work is the key to success. Be honest in your studies and time management, and focus on your goals. Your converted efforts with the able guidance of learnt faculty would definitely provide you a blissful and successful life. You are indeed blessed to find an opportunity to get education at one of the best colleges of the state of Jammu and Kashmir. Co-curricular and extra-curricular activities organized by various clubs and societies here facilitate the process of creative and critical thinking. They not only inculcate social and moral values, compassion for nature, pride for Indian culture and tradition and awareness for one's right and duties but also make students good human beings and confident leaders. I intently believe that you would actively participate in these activities and develop versatile personality during your stay in this temple of learning.

Here I remember the famous statement of Nelson Mandela-
"Destroying any nation does not require the use of atomic bombs or the use of long range missiles. It only requires lowering the quality of education and allowing cheating in the examination by the students".

The result is that-"Patients die at the hands of such doctors, buildings collapse at the hands of such engineers, money is lost at the hands of such economists and accountants, humanity dies at the hands of such religious scholars and justice is lost at the hands of such Judges"

"The collapse of education is the collapse of Nation"

It is worthwhile to mention here that education is a shared commitment between dedicated teachers, motivated students and enthusiastic parents with high expectations. Let us, as teachers and parents in particular and students, civil society members, policy makers and other stakeholders in general, maintain the standard of education and contribute towards the development of our pride Nation.

Lastly, I wish to invite you all for moral and physical support, suggestions and healthy criticism.

With further hopes and warm wishes.


Dr. Mohammed Azam (Principal)
Govt. Degree College, Mendhar (J&K)