Activities
Click Here To View Activities In Pics
Extra-curricular activities
The students are encouraged to take part in various extra-curricular activities of the College.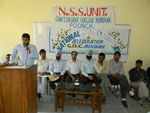 Debating Society:


The College has a Debating Society that organizes debates, paper reading contests, seminars and quiz programs. Lectures and talks on topics of academic and national interests are frequently arranged.
Dramatic Club:
The Dramatic Club organizes cultural shows/dramas on certain occasions celebrated in the College and also prepares the students for 'Display Your Talent' competition organized every year by the University of Jammu.
College Magazine:
There is an opportunity for student writers to express their views in terms of contribution to the College magazine which is published every year. The editorial board comprises members of the teaching staff as well as students. Student writers are expected and encouraged to present their point of view regarding various issues on academic, social, moral and national themes with a liberty to write in the languages of their choice.
National Service Scheme (NSS):
The College has a unit of NSS comprising student volunteers who work under the guidance of a Program Officer. The objective of this unit is to install a spirit of comradeship, love for humanity, and community service, particularly of the village folk. At present, Prof. A.A. Chowdhary is looking after the unit as Program Officer.
National Cadet Corps (NCC): The College has a unit of NCC comprising student cadets receiving training under the guidance of Associate NCC Officer (ANO). At present, Prof. Mohd. Akram is looking after the unit as ANO.
Sports:
Facilities are available for Cricket, Volley Ball, Hockey and certain indoor games, like, Chess, Carom, etc.
Prizes, Medals and Certificates of Merit
Students with outstanding performance in the curricular and extra-curricular activities of the College are awarded with prizes, medals and certificates of merit.
National Seminar
Government Degree College (GDC), Mendhar organised a National Seminar on National Integration and Communal Harmony on Saturday in which various renowned scholar participated and presented their views. The proceedings of the seminar were conducted in four sessions. The inaugural session commenced with payers followed by presentation of views of 10 speakers on National integration and communal harmony. In the technical sessions, scholars Dr A.R Khan, Dr Shamim Banday. Dr Ghulam Abbas, Nazir Ahmed Qureshi, M.N Qureshi, Dr Abdul Rauf, Prof Mohd Zaman, Principal GDC, Surankote, Dr Munir Hussain, Prof A.R Chaudhary, Padam Shri S.N Khajuria, Dr Mohd Azam, Anwar Hussain Shah (ADDC Poonch), Prof S Hussain, Dr Mahroof Khan, Prof Paramjeet Singh, Prof Joginder Singh, Prof Shokit Hussain, Prof Tehsin Abbas, Dr Bagh Hussain, Prof Khadim Hussain, Dr Wajahat Jafri, Prof Shabbir Hussain Shah presented their views on this occasion. Apart from 700 students of college, prominent citizens also attended seminar. 37 RR Unit of Army provided seating arrangements and public address system for the function.