About Us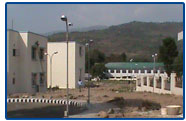 Growing with intent for quality, achievement and success, the College is setting its goal to become dynamic and future focused, with a contemporary approach towards education, life and culture.GDC Mendhar is a newly established college (Est. 2005) under Prime Minister's reconstruction plan for Jammu & Kashmir State. This tot has just started taking steps towards its aim to impart education among learners in this far flung area of the State. Initially the college had started working in the premises of the Government Higher Secondary School (Boys) Mendhar and now has shifted to its own newly constructed building adjacent to the same school across the road towards Dharana, just 500 meters from Mendhar Bus stand.


Vision
We, at Government Degree College Mendhar, will impart futuristic education and instill high patterns of discipline through our dedicated staff who shall set global standards, making our students academically superior and ethically strong, who in turn shall improve the quality of life of the human race.
Mission
Our mission is to educate students especially from the local and rural areas, so that they become enlightened individuals, improving the living standards of their families and society. We will provide individual attention, a level of quality of education and take care of character-building.

Principals over the years
| | | | |
| --- | --- | --- | --- |
| SNO. | Name | From | To |
| 1. | PROF. H.S. KIRN. (NODAL) | 23/05/2005 | 31/07/2005 |
| 2. | DR. MOHD. RASHID. (NODAL) | 01/08/2005 | 05/02/2006 |
| 3. | PROF. V. K. MUNSHI | 06/02/2006 | 22/07/2006 |
| 4. | DR. RAM KRISHAN | 26/07/2006 | 20/04/2010 |
| 5. | PROF. S. K. BHALLA | 21/04/2010 | 08/10/2010 |
| 6. | PROF. G. L. SHARMA (NODAL) | 09/10/2010 | 22/07/2011 |
| 7. | PROF. SHABBIR HUSSAIN SHAH | 23/07/2011 | 05/08/2015 |
| 8. | DR. JAVAID AHMED QAZI | 06/08/2015 | 19/06/2017 |
| 9. | PROF. SHABBIR HUSSAIN SHAH | 20/06/2017 | ON WARD |